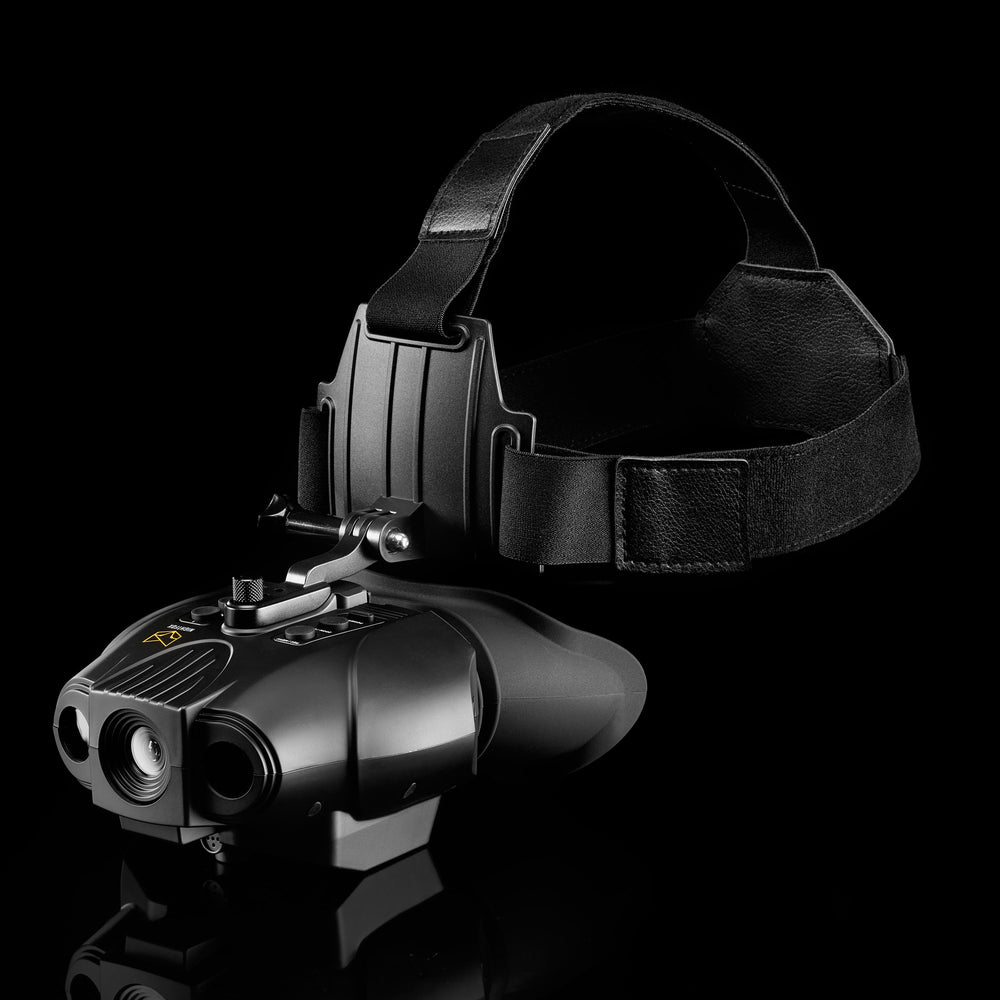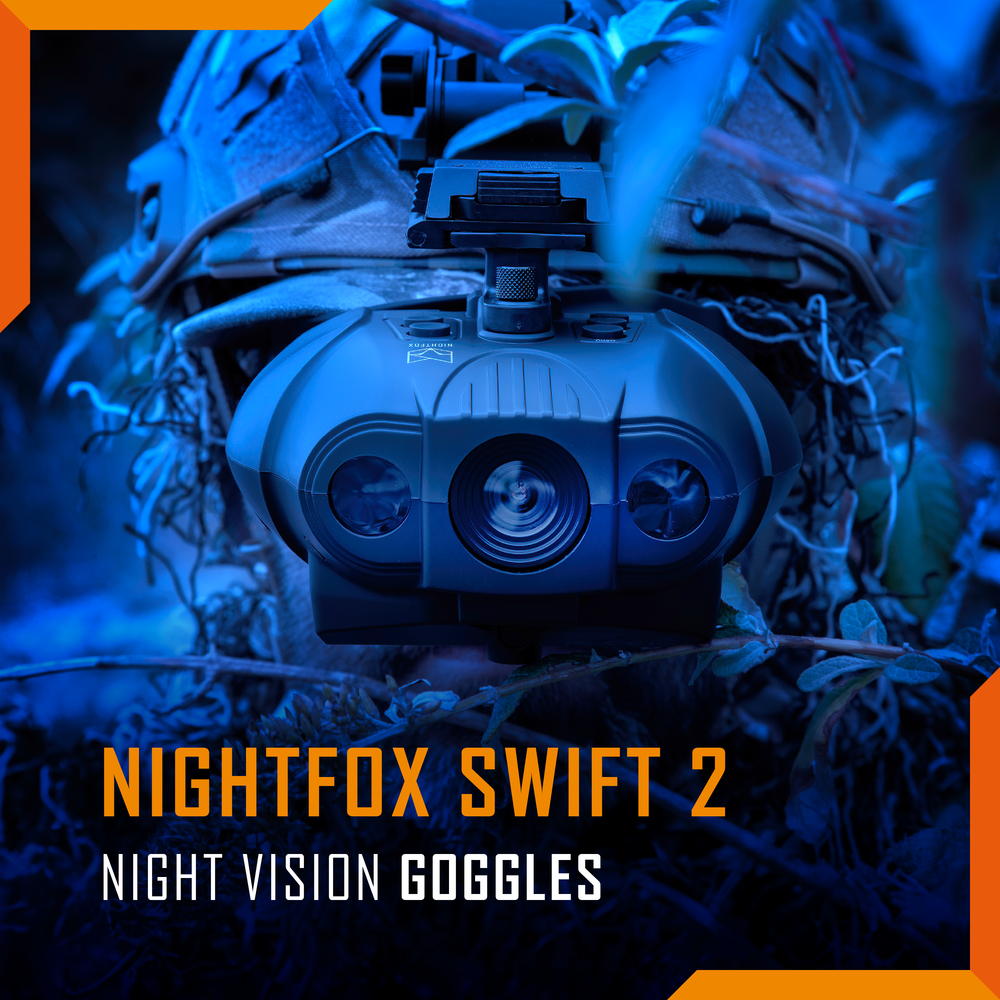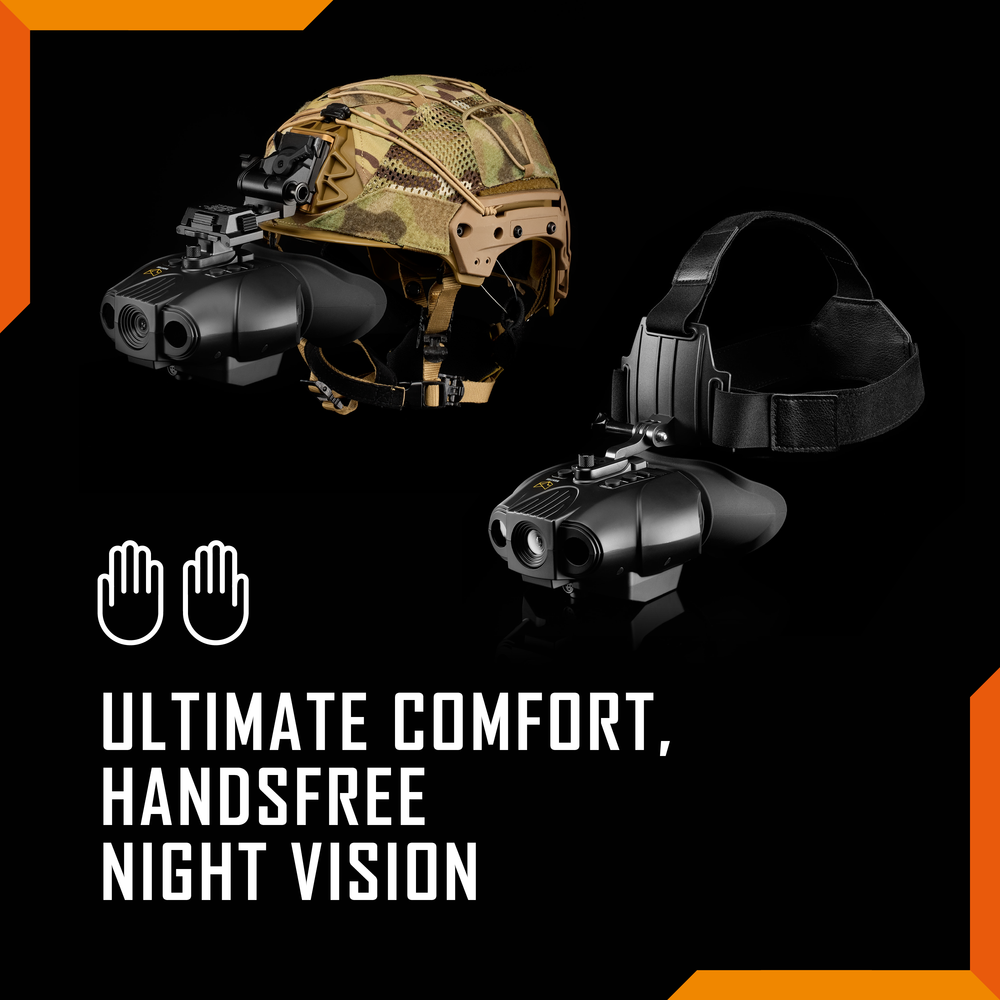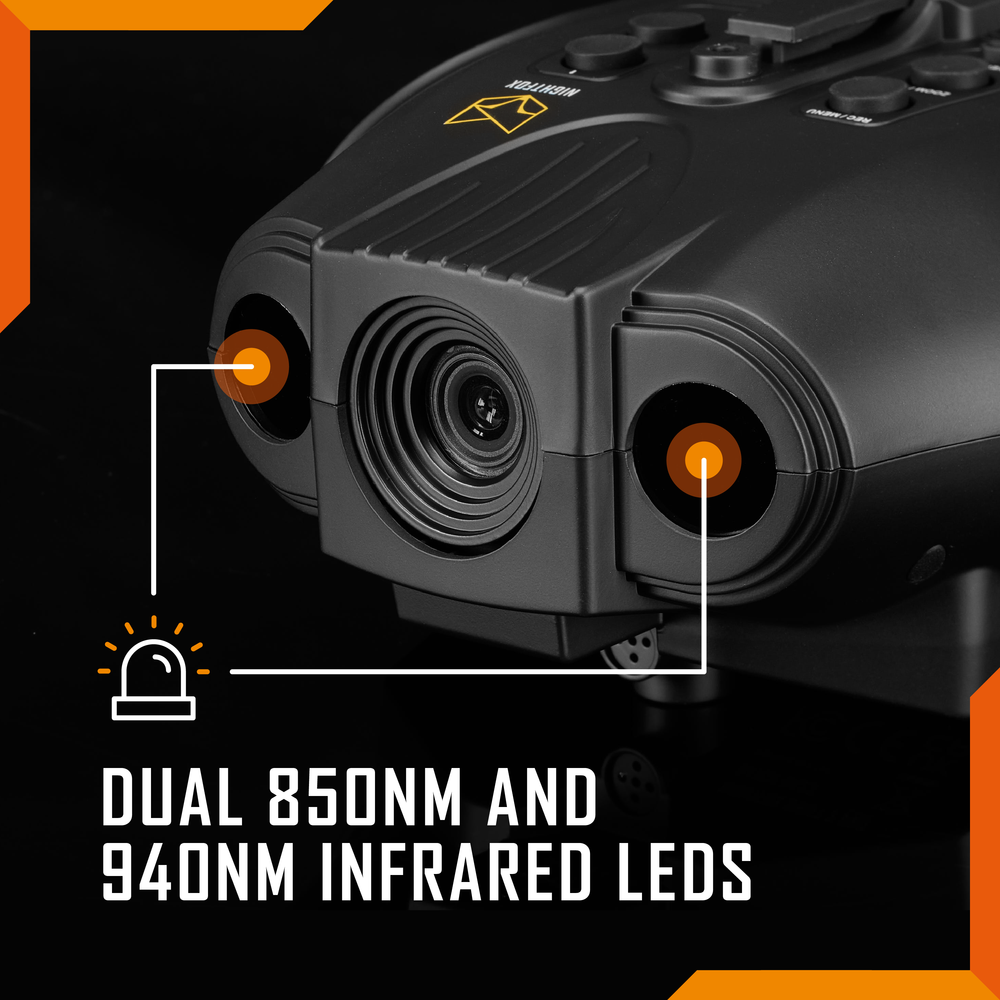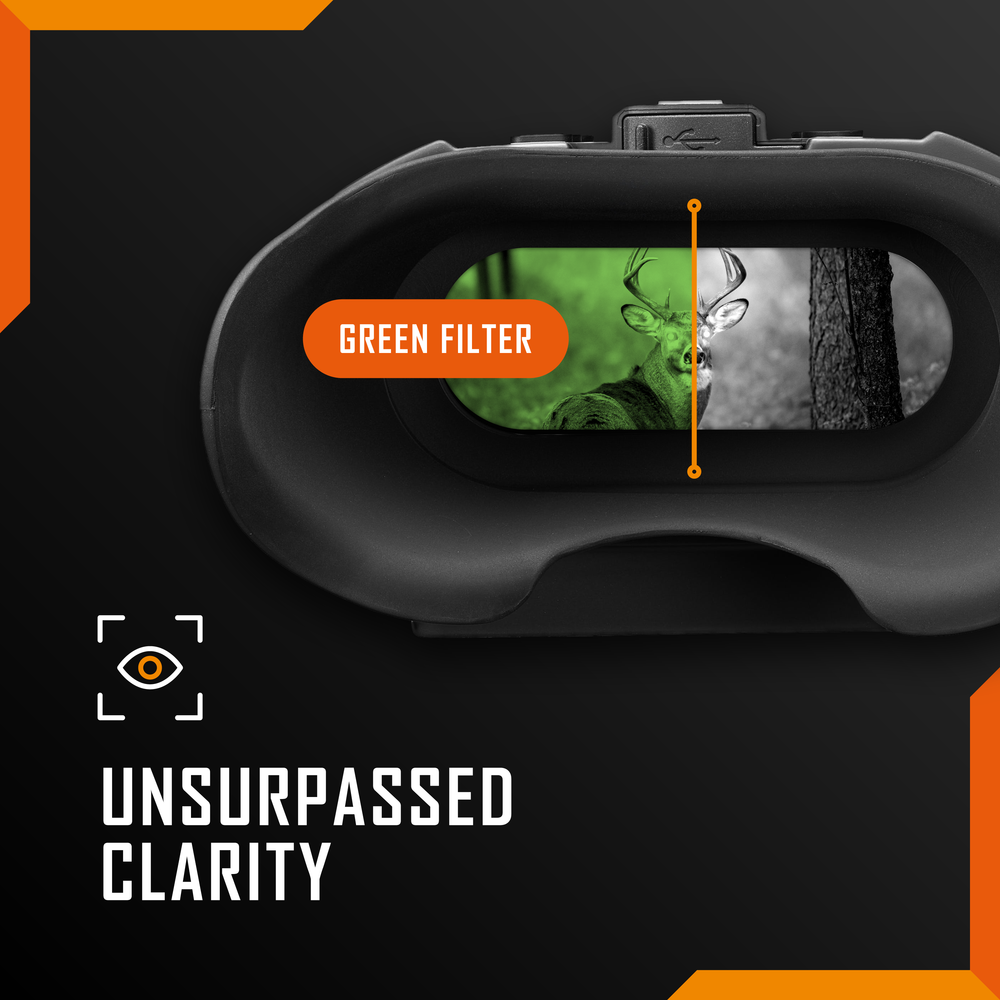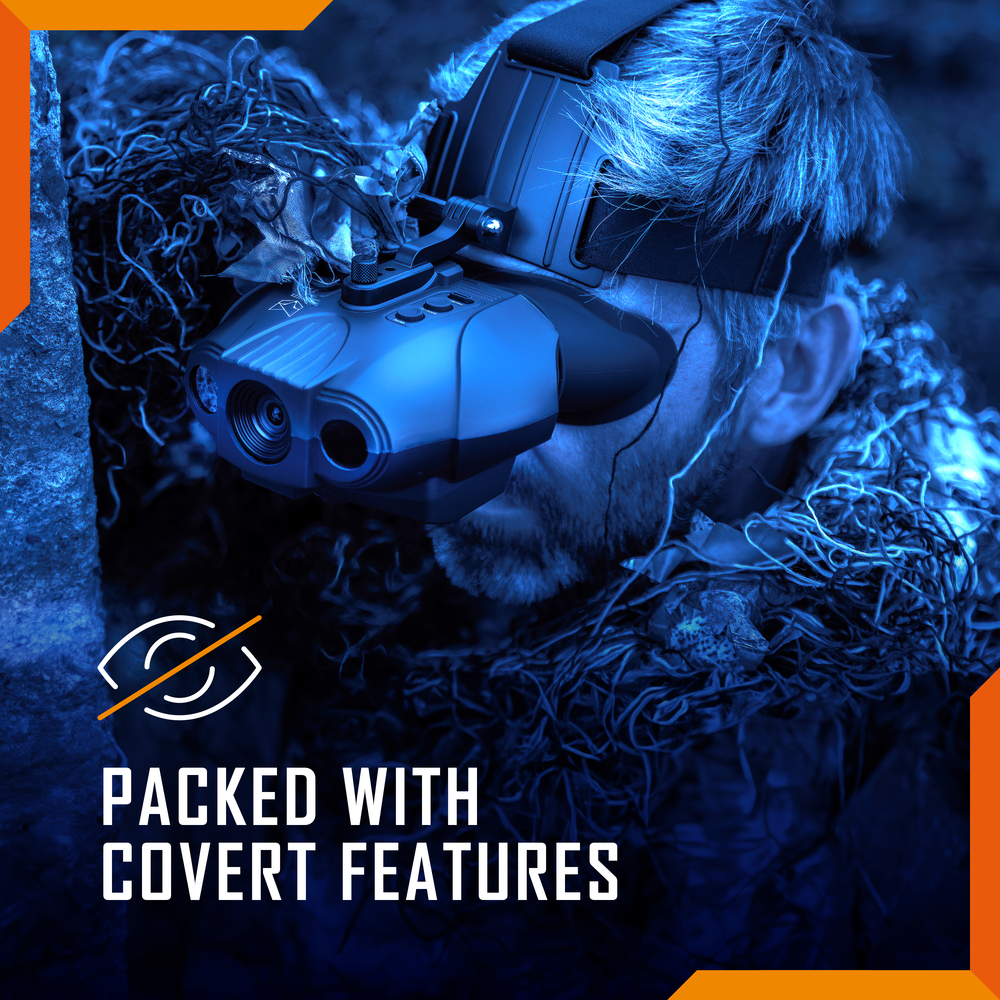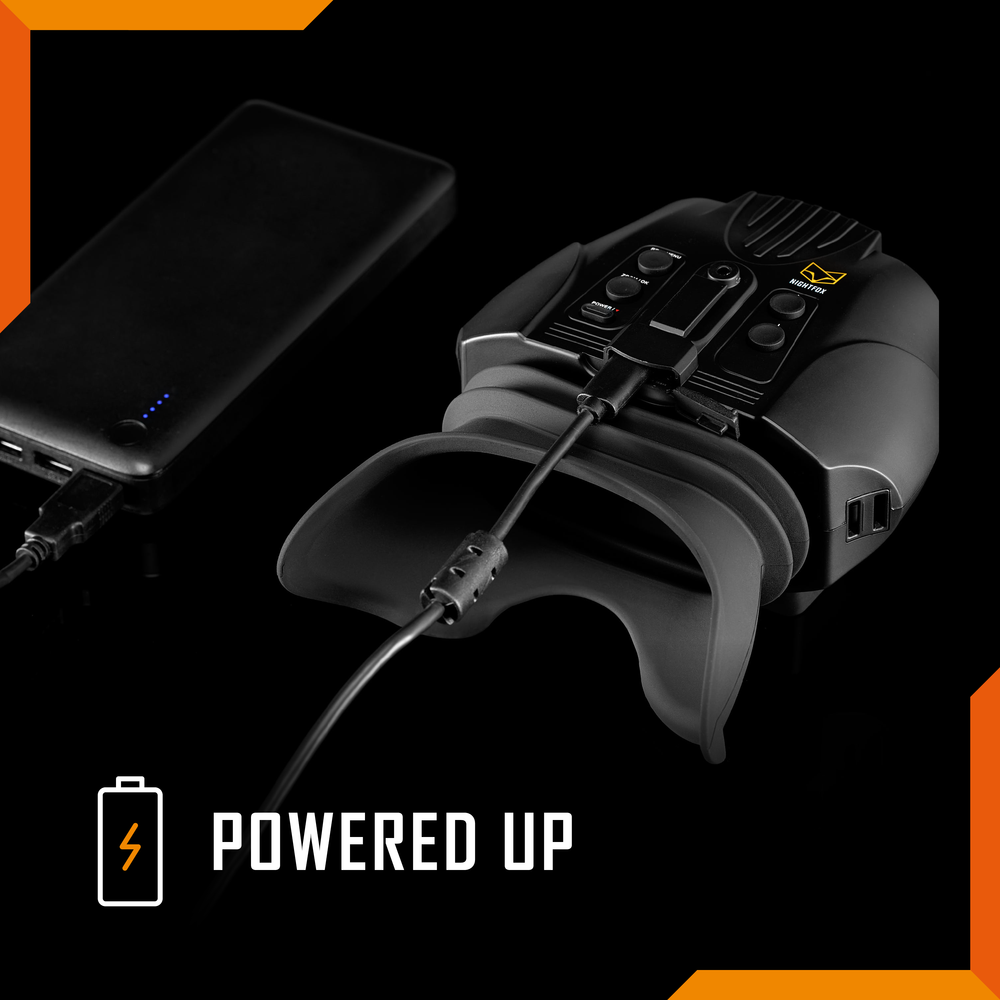 Nightfox Swift 2 Night Vision Goggles
1x magnification, 940nm and 850nm infrared LED for stealth and range
Includes USB rechargeable LG-cell 3200mAh 18650 battery
Easy head and helmet mounting with included comfy head mount
Includes adaptor for Wilcox G24 style helmet mounts
Description
** Click for the Swift 2 Pro with HD recording **
Ultimate comfort, handsfree night vision goggles: with 1x magnification and a wide 54° viewing angle, you'll be able to see what's around you easily. The Swift 2 goggles now also come with a beautifully soft eyepiece with an exceptional, light blocking fit and a dovetail helmet mount adaptor as standard, compatible with the Wilcox G24.
See further than ever: We've developed a new 1080p sensor for the Swift 2, which is super sensitive to light. With this new sensor, you can use the LEDs on lower power - so you'll be less visible and save battery life.
Dual power: The Swift 2 is the first digital night vision device to combine 850nm and 940nm LEDs in one product. Use the 940nm LED to go undetected: it produces virtually no red glow, with a 90m (300ft) range. Use 850nm see further: it gives off a visible glow, but boosts the range to 130m (400ft).
See all night: the Swift 2's powerful LG-cell 18650 3200mAh battery will run for 5 hours of constant use. Charge up the Swift 2 on the go with a USB power bank, so you're never left in the dark. The battery itself is even replaceable, so the Swift 2 will never wear out.
Specification
Fixed optical magnification: 1x
Adjustable digital magnification: 2x
IR wavelength: 940nm and 850nm
Digital sensor resolution: 1920*1080
Infrared LED power output: 2.5 watts
Power supply: Removeable 18650 lithium battery 3200mAh, 3.7V
Battery Life: 4hrs with mixed IR use
Recharge via USB: Yes
Photo taking capability: No
Video recording capability: Yes
Audio recording: Yes
Memory card: 32GB Micro SD (included)
Recording resolution: 1920*1080
Unit dimensions: 197*140*75mm
Unit weight: 373g inc. battery
Viewfinder technology: TFT
Screen resolution: 480*360
Screen size: 2"
Sensor type: 2MP
Aspect ratio: 4:3
Aperture: F1.5
Viewing angle (FOV): 54°
Viewing distance at night: 130m / 150 yards
Minimum focus: 10cm
Screen frames per second: 30fps
Sensor frames per second: up to 60fps
Integrated Laser Rangefinder: No
EAN: 5060577470717
what's included
Nightfox Swift 2 night vision goggles
Adjustable head strap
Neck strap
GoPro-style connector rail mount
Nightfox click G24 helmet mount
Micro USB charging cable
18650 battery, 3200mAh (arrives installed)
32GB memory card (arrives installed)
Instructions (in English, German, French, Spanish, Italian)
Nightfox 18 Month Warranty
Subscribe to the newsletter for 5% off